SEATTLE (May 2, 2016) – Event Transportation Associates (ETA), a full service event transportation company, announced today that the company's new branding was recognized with two awards in the 2016 Hermes Creative Awards competition. The ETA logo, part of the company's rebranding that was rolled out in February 2016, won an Honorable Mention while the company's newly designed business cards won Gold.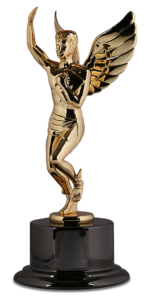 "Our rebranding was a statement to reaffirm our commitment to quality and our environment," said ETA CEO Janie Hollingsworth, P.E. "We pay attention to details, and we underwent the rebranding to really communicate to our clients that we are striving to be the best we can be in all aspects, beginning with what they see."
Hermes Creative Awards is administered by the Association of Marketing and Communication Professionals, an international organization that consists of several thousand marketing, communication, advertising, public relations, and media production professionals. Judges reviewed more than 6,000 entries, looking specifically for companies that exceeded a high standard of excellence and whose work serves as a benchmark for the industry.
Hermes Creative Awards recognize excellence in traditional programs as well as electronic programs. Both of ETA's awards were in print media.
About Event Transportation Associates (ETA)
ETA, founded in 1991, provides full service event transportation services and specializes in the design, planning, and management of world-class, highly visible and complex major special events. The company also offers VIP transfers, airport meet-and-greets, and shuttling. Services range from transportation design, planning, and management and vehicle logistics, to professional traffic engineering services, including event routing and emergency route planning. Known for innovative solutions that are environmentally friendly, ETA is headquartered in the Greater Seattle area with offices in Denver, Fort Worth, Texas, Los Angeles, Orlando, Fla., and Phoenix. www.ETA-main.com.