Leaders in Event Transportation
In its 25-year history of providing transportation services, ETA has designed and operated transportation systems for world-class, highly visible national and international events including conventions, sporting events, conferences, trade shows, and exhibitions. Large scale events of all kinds are our specialty.
Whether its the Super Bowl, World Series, Olympic Finals or a high-security Political Convention ETA has been there!  We offer full-service event transportation design, planning and management, including professional traffic engineering services, vehicle systems, dispatch and routing.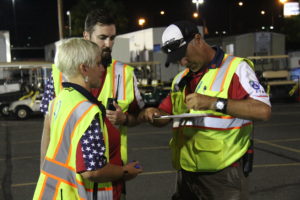 Regardless of the event scope, we approach each event based on our process, which is project-management driven, and we apply quality control at each phase.
We recognize that successful events begin with solid planning and process implementation. Every event is unique and we approach it that way – with innovative techniques related to dynamic routing, traffic engineering and technology we find the best way to approach services in each setting.
Event Transportation Services
Over 25 years of experience in passenger transport logistics and operation
Talented and competent staff nationwide to handle unplanned incidents effortlessly
Dedicated team to handle all VIP transports
Positive relationships with transit suppliers to receive best price
Expertise in planning and executing temporary transit systems to move thousands of people for large-scale events and emergency response
Experience in implementing comprehensive dispatch command centers
Reliable GPS vehicle tracking devices for all vehicles to monitor movements during event and incident response
Efficient shuttle routing to and from destinations by utilizing existing traffic data to ensure guests arrive on-time
Plan and provide equipment needs (not just buses, shuttles and black cars!) safety vests, barricades, flashlights, signage, way finding, bus placards, etc.
Detailed staff training to provide the best customer service for your guests
Extensive experience in coordinating transportation operations with host city departments, Department of Transportation, Federal Agencies and local police and fire divisions
Assist with transportation budget management and provide sponsorship opportunities
Production of way finding and signage
More About Us.
Looking for full service VIP EVENT PLANNING? [Premier Services]