Leaders in Event Transportation
In its 25-year history of providing transportation services, ETA has designed and operated transportation systems for world-class, highly visible national and international events including conventions, sporting events, conferences, trade shows, and exhibitions. Large scale events of all kinds are our specialty.
Whether its the Super Bowl, World Series, Olympic Finals or a high-security Political Convention ETA has been there!  We offer full-service event transportation design, planning and management, including professional traffic engineering services, vehicle systems, dispatch and routing.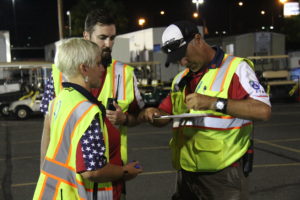 Regardless of the event scope, we approach each event based on our process, which is project-management driven, and we apply quality control at each phase.
We recognized that successful events begin with solid planning and process implementation. Every event is unique and we approach it that way – with innovative techniques related to dynamic routing, traffic engineering and technology we find the best way to approach services in each setting.
Event Transportation Services
Equipment needs and planning (not just buses, shuttles and black cars!) safety vests, cones, flashlights, signage, way finding, bus placards, etc.
Venue staffing exercises, staff vetting, training and placement
Dot planning exercises with Venue Management
Venue security procedures, vehicle access and vehicle permits
Venue footprint and space planning exercises
Coordination with Logistics regarding the Master Delivery Schedule
Coordination with Sport Federation for changes and flexibility needed with competition and training schedules
Route Planning
Staff and driver scheduling
Vehicle tracking
Peak ingress/egress planning
Load zone planning
Transfers & VIP car services
Special needs and/or event arrangements
Detailed sites maps and route maps
Transportation budget management
Production of way finding and signage
More About Us.
Looking for full service VIP EVENT PLANNING? [Premier Services]